Conservatory Styles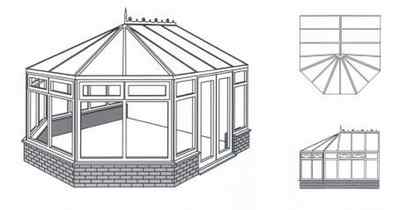 3 Facet Victorian 
This is the most popular style of conservatory and has distinguishing architectural features such as a bay front, steeply pitched roof and ornate ridge details. Style variations can include: 3-facet Victorian the bay front has three main windows, widely angled for maximum space. This style is suitable for the majority of locations.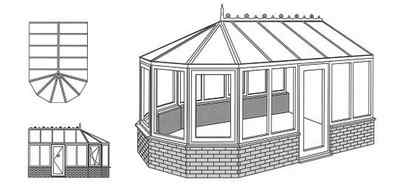 5 Facet Victorian 
This a popular style of conservatory and has distinguishing architectural features such as a bay front, steeply pitched roof and ornate ridge details. Style variations can include: 5-facet Victorian – a bay front with five main windows, creating a pleasing period profile with a subtle rounded appearance. Offering the ideal blend of space and classical looks.
Edwardian 
A flat fronted and gracefully understated variant of the Victorian conservatory. Edwardian conservatories offer a clean and simple look with strong bold lines. The full square corners on the Edwardian style maximise the interior floor area as opposed to the more rounded corners associated with a Victorian.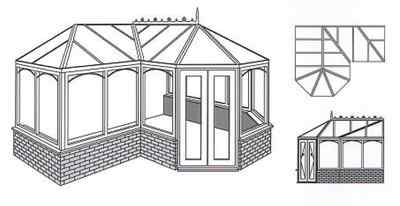 P Shape 
Combining a mix of lean-to and Victorian styles, a 'P-shape' conservatory is the ideal choice for a larger conservatory. By blending two styles into one you can create a conservatory big enough to offer two separate living areas - e.g. a dining room and living room. A P-shape is ideal for creating maximum space whilst maintaining a sense of proportion with your house. The Victorian section helps to create the P-shape that gives this style its name and can be specified as either a 3 or 5 panel design.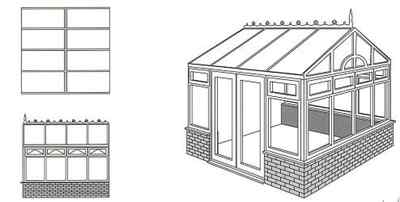 Gable 
Adds light and space and introduces a sense of architectural grandeur. The choice of a gable fronted conservatory offers you a distinctive and alternative look by maximising the ceiling height to create a sense of drama and grandeur. A steeper pitched roof ensures that your dream conservatory is a stunning space for you and your family to enjoy.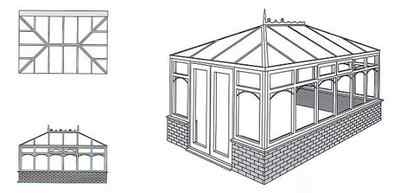 Double Hipped Edwardian 
The utilisation of a boxgutter allows the addition of a Victorian style conservatory to an even wider range of dwellings. A boxgutter allows the Conservatory to abut the existing dwelling wall or to simultaneously drain the existing house roof and the conservatory roof. This design is particularly suitable to properties that have height restrictions that would foul the ridge of a standard Victorian or Edwardian. They are also perfect for bungalows where the roof soffit is at a low height.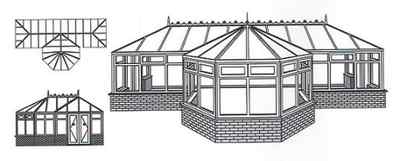 T Shape 
Ideal for larger properties with a long wall on which to build the conservatory A T-shape conservatory allows for maximisation of space and gives an attractive symmetrical appearance. A central projection highlights the shape and can create a 'porch' effect to the conservatory if this is where the doors are placed.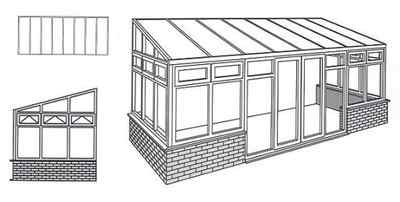 Lean To 
For those that prefer the clean understated lines of a Mediterranean style sunroom a lean-to is the perfect choice. Traditional or contemporary, this style is ideal for properties with limited space under the eaves or an awkward area in which to fit a conservatory. The pitch of the roof is variable, so that a shallow pitch could fit under a low bungalow roof, whilst a steeper pitch would match the roof of a terraced house. Often referred to as a sunroom or garden room, lean-to conservatories bring a taste of the Mediterranean to your home.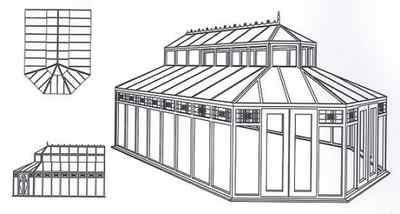 Lantern 
The original conservatory style, now brought up-to-date with Ultraframe technology.Choosing a lantern style conservatory ensures drama and style representing the grandeur of times gone by. The 2-tiered effect adds a new dimension to your conservatory and the extra ceiling height adds to the feeling of light and space. Lanterns are typically suited to older style properties and are often chosen for swimming pool enclosures.