Ultraframe Livin Room Pelmet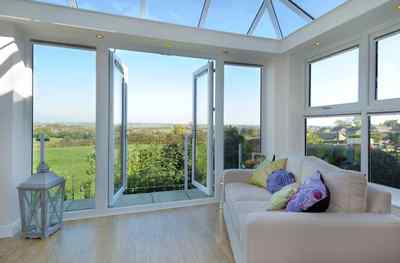 The Livin room orangery effect uses the well proven Ultraframe Classic roof system at is heart and then adds an engineered steel framing system internally, which is plastered to give a perimeter ceiling all the way round the Classic roof to give it the aesthetics of an Orangery.
The Livin room Orangery is neither a conservatory or an extension. It combines all the benefits of a conservatory in terms of light, space and value for money but adds the solidity of an extension. The Livin room adds a whole new dynamic to the space, giving it a 'real room/orangery' feel.
As with all Ultraframe products the Livin room Orangery has been extensively tested by their in-house R&D team. The Livin room Orangery is a systemised approach, yet maintains the flexibility you would associate with an Ultraframe roof system.
The Livin room Orangery internally, can be further enhanced with the use of lighting within the plaster board, and is suitable to use with bi-folding and French doors. Externally the aluminium Cornice, available in a wide range of colours, can be used to add to the visual effect of the Orangery.