Bay & Bow Windows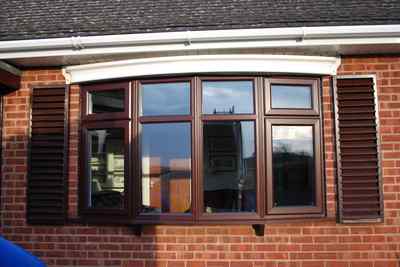 Bay / Bow windows are an attractive feature to any property. They also make a big difference to the feel of the room, the room will feel much larger. They are constructed using standard window frames connected using structural bay poles or reinforced corner posts.
Flat–to–Bow Windows: 
It is possible to create a bay or bow window from an existing flat window. To create a bay window (with brickwork below) building regulations are required and it becomes quite an expensive process. Alternatively a bow window can be created more cost effectively without the need for building regulations. A flat to bow window has the same frame construction as a normal bay or bow window but with a new timber / scalloped lead roof.
Architectural GRP Bow Canopies: 
An alternative to a timber / lead roof is to use a GRP bow canopy with an intergraded ceiling. This has an attractive external dental moulding and a high gloss finish. These are manufactured in a set range of sizes, which may have some design constraints depending on the size of your existing window.
Load bearing bay windows: 
Under new building regulations load bearing bay and bow windows are now covered by FENSA. All bay and bow windows are constructed using structural bay pole assembly kits, however under new building regulations load bearing bay pole jacks must now be fitted through the external cill into the bay pole assembly kit. This creates a structural support from the brickwork under the bay or bow window to the head of the aperture.
A rated PVCu Windows fitted as standard
Centre Pane U-Value of 1.2 (1.3 overall, Double Glazed)
Leading 6 chamber profile
Fully reinforced
Internally Glazed for added security
Colour fast profile (will not discolour)
Low line post extruded gasket seals (meaning no shrinkage)
40 different foiled colors & woodgrains
High security espag + shootbolt locking
28mm Low-E Double Glazed Glass Units
Some of Our Customers Bay & Bow Windows
X